Double-cam housing for the GoPro Hero3 camera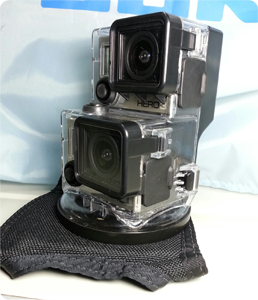 "Why would you want two cameras?" is a question that I'm often asked. The answer is pretty easy: One camera is dedicated to video and one's dedicated to photos.
"But you can pull still photos off the video clips!" is sometimes a reply I hear. My answer: Sure you can take screenshots from a video file, however they'll be low quality compared to the detailed images you can get from a Hero3 set to Photo mode.
This double-cam system has all the same great features of the single-cam, it's just a bit taller and heavier. Both lenses can be removed and cleaned easily. All microphones have holes exposing them directly to sound waves, providing for full range frequency reproduction. It's great to hear a scream as it was intended, instead of as a muffled yelp.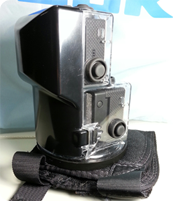 Wide or Slim Back
The Wide back, seen here, provides room for cameras + backpacks in the top and bottom slots.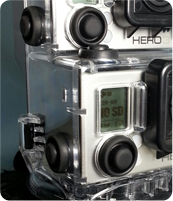 All functions accessible
Buttons are in place for power/mode, record, and wi-fi. The menu of a Hero3 camera is fully available.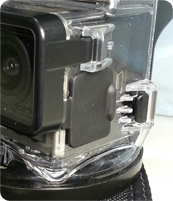 Quick changes possible
Just as in the Single-cam housing, the lens and back panel can be quickly removed, and ports are easily exposed.
If you buy a Pivot Pad glove with a single-cam housing, it's easy to remove that top piece at a later date and install a universal mount or a double-cam Hero3 mount.